#IDidMyPart
SHB's Covid-19 Testing Efforts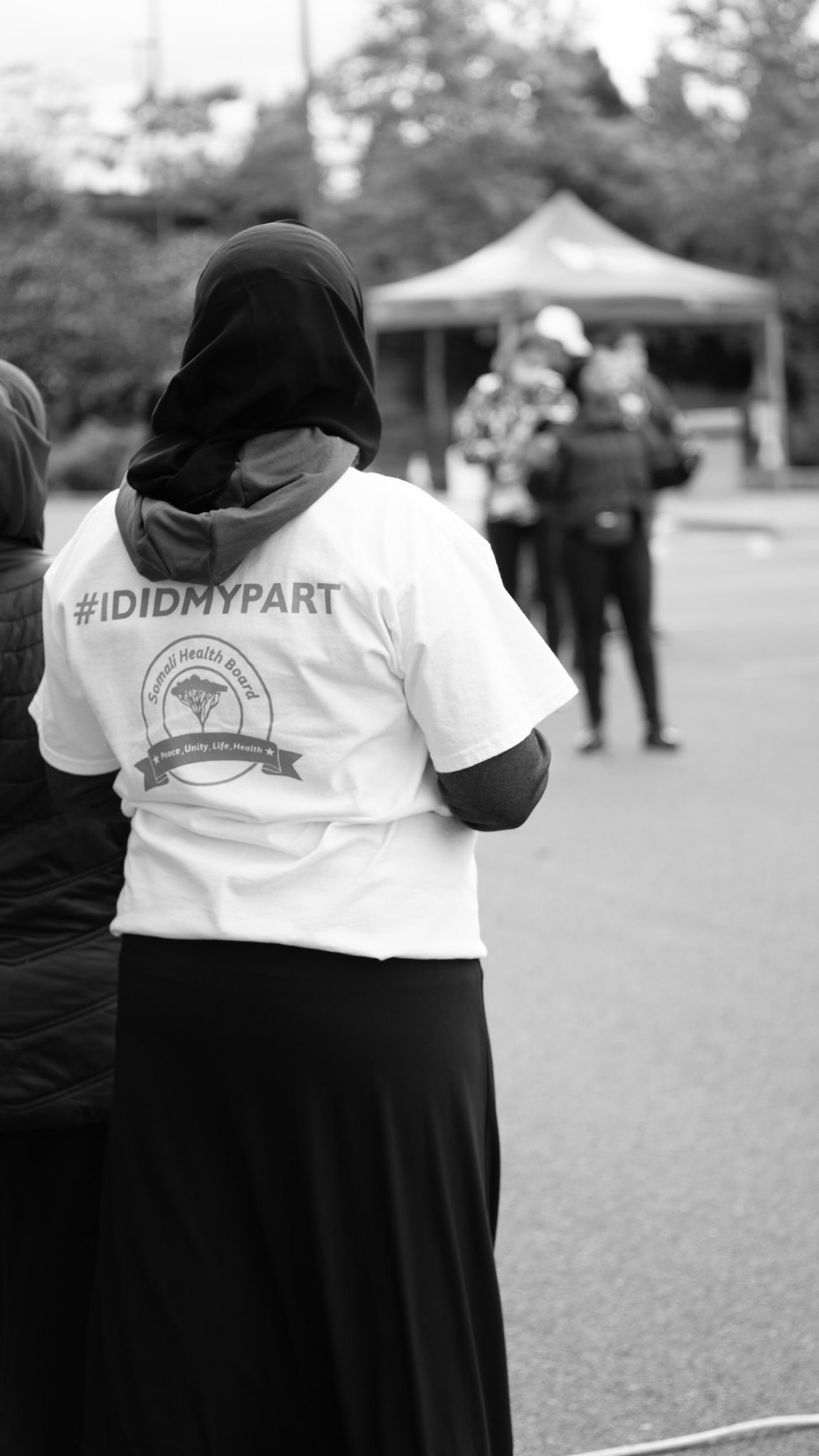 Black Health Matters
The Somali Health Board partners with the BeyGOOD Foundation and Tina Knowles Lawson's initiative #IDIDMYPART to administer free COVID-19 testing in King County. 1,205 people were tested last weekend, 80% of those tested were People of Color.
COVID-19 has disproportionately affected black communities. 33% of COVID-19 patients are black, the Centers for Disease Control and Prevention said. While only 13.4% of the population is black, according to the United States Census Bureau. 
The BeyGOOD foundation along with the #IDIDMYPART Initiative started the movement in Houston, Texas. Supplies and testing kits were driven to King County and include diapers, feminine products, soap, masks, gloves among other things. A total of 3,500 care packages were distributed at the event. 
The Somali Health Board is a grassroots organization led by health care professionals in King County and local volunteers. Their priority is making health care easily accessible to underserved communities and to adapt communication tactics to serve new refugee and immigrant communities in King County. 
"This is a safe zone, we don't ask for a social security number or ID, we understand the role identification plays. We don't want it to be a hindrance," SHB volunteer and King County Public Health Official, Mohamed Ali said, in reference to the long line of cars lined up to receive testing. 
In the United States, Identification cards play an active role in facilitating everyday life. Many unauthorized immigrants lack an ID making it difficult to accomplish essential tasks like receiving health care or enrolling their children in school. 
Refugees receive a refugee identity certificate. However, this does not play a role in their legal status. There is a deeply rooted fear of deportation and visibility in both communities.
When access to health care is a barrier, fear will have no choice but to develop. Health care becomes an unknown and a red line is drawn between communities in need and an institution that is essential to their wellbeing.
"People in our community ask 'will the swab be safe? Will they put the virus into our system?" Ali said. "Our people are being tested on the hospital bed," he added.  
Accessibility to health care is assessed by cost-effectiveness or insurance coverage, geographical availability, and health care providers a patient can communicate with and trust, the Office of Disease Prevention and Health Promotion said. 
The Somali Health Board targeted areas in South King County where communities of color are most prevalent. Last weekend the event was hosted in HealthPoint of Renton, and in Sea Mar of Federal Way. 
The event was advertised through all their social media accounts and WhatsApp. Videos were made with translation and flyers in 14 different languages. In addition, over 30 interpreters were on site including American Sign Language interpreters. 
The SHB will be targeting other areas in King County in the coming weeks. For more information on the SHB's work please visit its website at somalihealthboard.org. 
Written by: SHB Intern, Lizbeth Andaluz
Care packages (supplies) distributed
Interpreters on site including ASL
Event Highlight
Watch our highlight reel from our #IDidMyPart event